Flexible
Flooring repaired or redesigned … quick as a flash
IOBAC Flooring innovations are designed with flexibility in mind.
Although we engage with it every day, flooring is an often overlooked part of building design, seen merely as a necessity that once chosen, you are stuck with for many years.
But what if it could be a flexible design element used to enhance a space, and which could be updated with minimal disruption?
Now you can:
> Choose from an array of magnetic ceramic, timber, LVT .. options on Ezy-Install Underlay 
> Install non-magnetic tiles using MagTabs
> Design ESD flooring with a whole range of top surface finish options
> Easily install and remediate Heated flooring
> Track behaviour and adapt designs accordingly with Sensor flooring
 > Open up your flooring options with IOBAC <
Once your IOBAC magnetic flooring is in place, the metallised resin base or Ezy-Install roll down underlay stays permanently in position, enabling the top surface tile to be easily uplifted and replaced.
So whether it's due to damage, refurbishment or spotting an advertising opportunity, you can switch flooring with ease with no specialist skills or external contractors required, and with no need to disturb and rectify the subfloor.
Damage, flood, spills – no sweat
Accidents happen.
But when disaster strikes and your floor is damaged, there's no drama with IOBAC magnetic flooring. Simply lift up the damaged tile and put a new one in its place in a matter of seconds.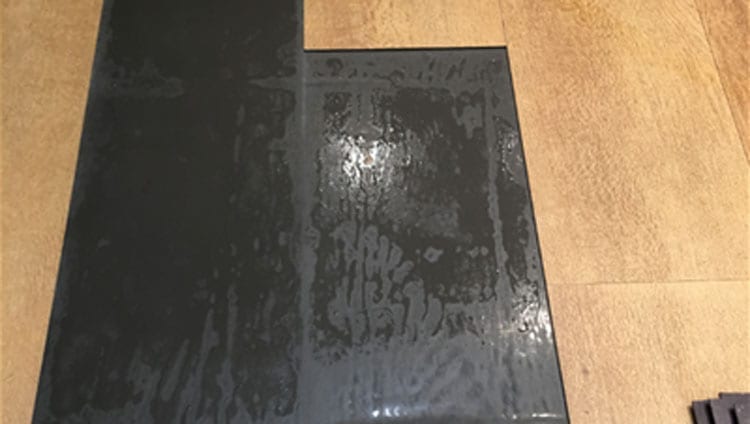 Enhance retail space by easily installing franchise, in-store concessions or pop-up promotional areas.
By harvesting data from IOBAC Sensor Flooring, including entrance matting, engagement areas, and full floor tracking, businesses can make strategic decisions based on real insight.
And because magnetic flooring is flexible and modular, that data can be used to inform what flooring you lay, where you lay it, and with what advertising to maximise business results.