Adhesive-free Flooring – For Real Estate
The Cost, Carbon & Design Benefits of Adhesive-free Flooring Installation
Enabling flooring reuse I Protecting Assets I Reducing Dilapidation Costs
… Specifying adhesive-free flooring installation can have many benefits for property developers and managers.
Use modern methods of flooring installation to protect and preserve the most expensive and heaviest embodied carbon element within flooring – the subfloor.
IOBAC Adhesive-free Flooring Installation Tabs (IOBAC MagTabs® and Tab-It®) securely hold floor coverings in place, yet lift up cleanly and easily.  Both the subfloor (including metal raised access flooring and concrete sub-floors) and the floor covering are left uncontaminated.
Using our reversible fixing mechanisms means sub-floor assets are left intact and immediately ready for the next install, no remedial work required, and the floor covering can be reused or more easily recycled.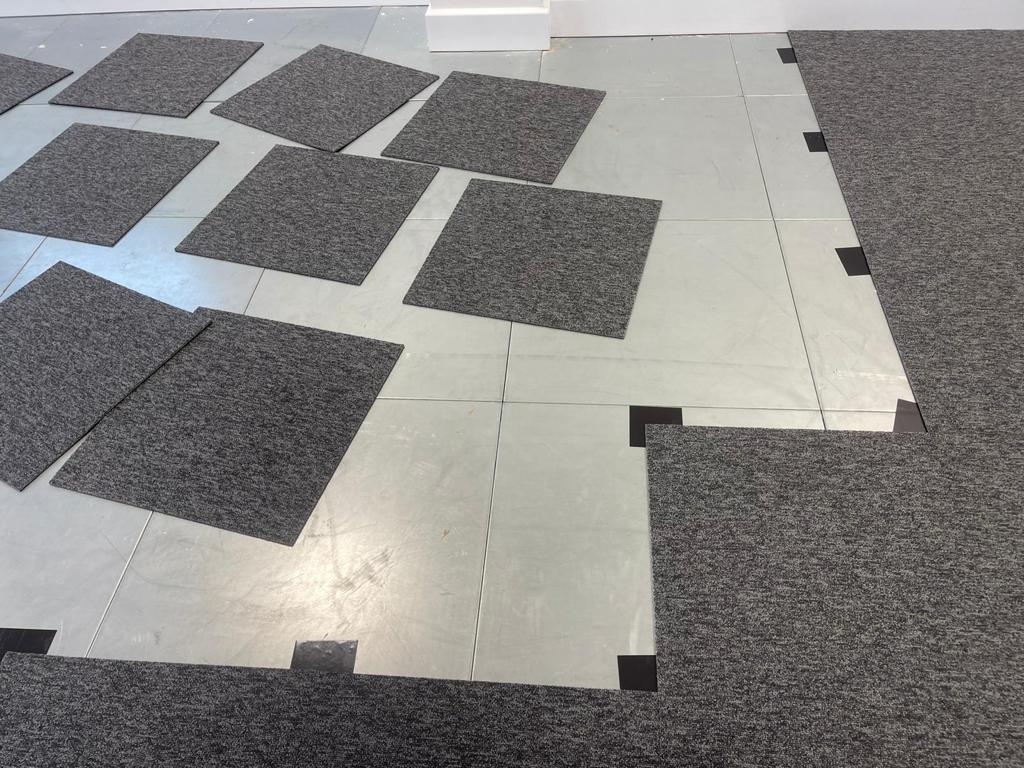 Traditional wet applied adhesive is the lowest cost component to install any flooring product, yet using this method damages and contaminates expensive assets and does not support circularity and sustainability in the built environment.
Our 8-page whitepaper covers the cost and environmental issues associated with adhesive-based installation methods, and how IOBAC Adhesive-free Flooring Installation Tabs (IOBAC MagTabs® and Tab-It®) can overcome them.

Sub-floors such as raised access flooring remain clean and undamaged in between leases, saving on expensive remedial and dilapidation costs.
Our whole-life cost comparison demonstrates a 40% saving when using adhesive-free installation vs traditional methods.
Easy access, repair and maintenance – floor tiles can be quickly replaced without the need for professional contractors.
Minimal disruption during installation – floor can be trafficked immediately.

Uplifted floor tiles are uncontaminated – giving them an extended life via reuse or recycling, rather than being sent to landfill.
 Reuse avoids extra embodied carbon – independent whole life embodied carbon modelling shows up to 80% carbon savings with adhesive-free installation.
VOCs associated with flooring adhesives eliminated for better Indoor Air Quality.
Command higher rental value with credits towards sustainability accreditations such as BREEAM.

Design for deconstruction – reversible fixing mechanism enables repurposing of assets and flexibility across current and future leases.
Attract and retain tenants with agile, adaptable spaces.
Proven award-winning universal fixing system for seamless combination of different floor covering types.
Approved by leading brands including Shaw Contract EMEA, Forbo Flooring. Bolon, Ege Carpets, Burmatex and BLOQ
Dual Grip technology ensure secure, durable hold even in high traffic areas.
"Avoid using adhesives to create composite materials that cannot be recycled."

Preferred for Flooring – "Mechanically (as opposed to chemically) fixed methods."

Ideal for Flooring – "Products with established closed loop recycling systems (take back schemes)."
The Greater London Authority requires Circular Economy Statements for all major projects, as set out in London Plan Guidance – Circular Economy Statements issued in March 2022
It covers the 6 circular economy principles of
building in layers – ensuring that different parts of the building are accessible and can be maintained and replaced where necessary
designing out waste – ensuring that waste reduction is planned in from project inception to completion, including consideration of standardised components, modular build, and reuse of secondary products and materials
designing for longevity
designing for adaptability or flexibility
designing for disassembly
using systems, elements or materials that can be reused and recycled.
Adhesive-free Flooring Case Studies