Facilitating flooring reuse in a wide range of built environments
Double-sided dry-tack adhesive tabs for cleanly fixing and uplifting carpet, LVT and woven vinyl tiles on most prepared sub-floors.
Now we've got all building environments covered
We've expanded our tab installation family to cover a wider range of sub-floors and built environments.
Ultra thin, double-sided dry-tack tabs, IOBAC Tab-It cleanly and securely affixes carpet tiles, +4mm Luxury Vinyl Tiles (LVT), and woven vinyl tiles onto most common prepared
sub-floors, including:
non-metal raised access floors including calcium sulphate, aluminium and wood
concrete/polished concrete
wood
ceramic
vinyl/lino/VCT
These little squares strongly secure floor coverings, even in heavy footfall spaces, using the same proven chemistry as our IOBAC MagTabs®, which is approved for use with flooring brands including Shaw Contract, Forbo, Burmatex, ntgrate, Tarkett, Desso, Ege Carpets, Balsan, Bolon, BLOQ , Milliken, Modulyss and Interface.
And in a first for the industry, Shaw Contract EMEA have gone one step further by offering a 15-year warranty for its carpet tiles when installed using our MagTabs and Tab-It®, including the re-installation of the tiles in a second location.
Hard to Shift, Yet Easy to Lift – Making Flooring Reuse A Reality
Flooring tiles are cleanly and easily uplifted, with no contamination of the flooring tile or sub-floor.
Flooring can then be easily reused, or recycled via the flooring manufacturer's take-back scheme.
The sub-floor assets are protected and immediately ready for the next install, with no remedial time or costs required.
Tab-It vs MagTabs – Where To Use
USE ON MAGNETICALLY RECEPTIVE SUB-FLOORS
> Metal raised access flooring
USE ON ON ALL OTHER COMMON SUB-FLOORS
> Non-metal raised access flooring
> Concrete, Wood, Ceramic
> Vinyl/lino/VCT
The Better Way To Install Flooring
Better For The Environment
Making Circular Flooring Easy
Uplift flooring cleanly and easily with no damage
Reuse or recyle floor covering, facilitating manufacturer take-back schemes & eliminating landfill waste
Eliminate VOCs associated with adhesive-based methods
Prevent contamination of metal raised access flooring
Contribute towards sustainability assessment certifications such as BREEAM, SKA ratings and LEED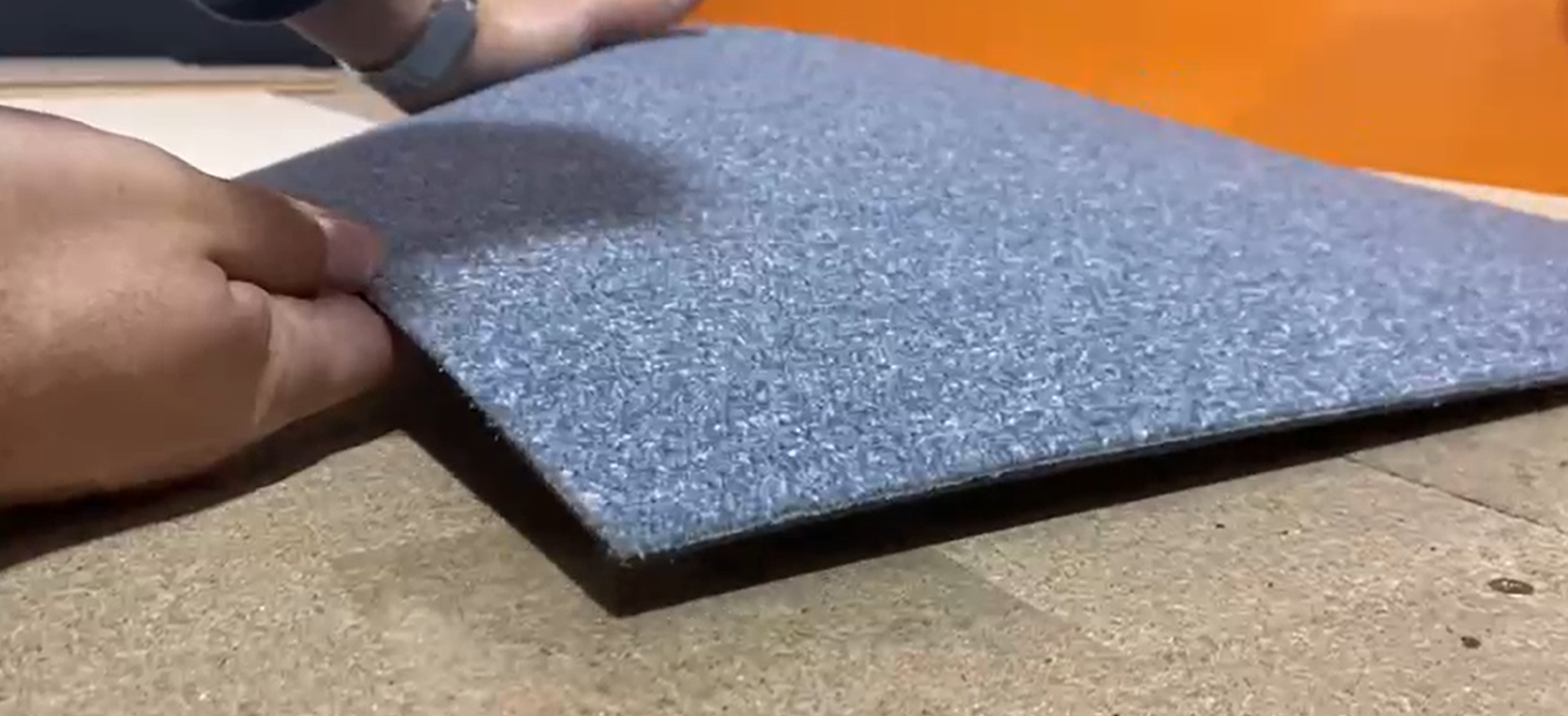 Better For Design Flexibility

Complete Design Freedom
Universally compatible – design is not limited to one brand or flooring type
Seamlessly combine different flooring types and brands in the same space
Use on a wide range of sub-floors and built environments
Easily deconstruct and repurpose flooring
Giving flooring maximum flex-agility for today's spaces
Ultra-thin profile means no telegraphing of tab through to flooring top surface.
Yet super strong and tear resistant construction.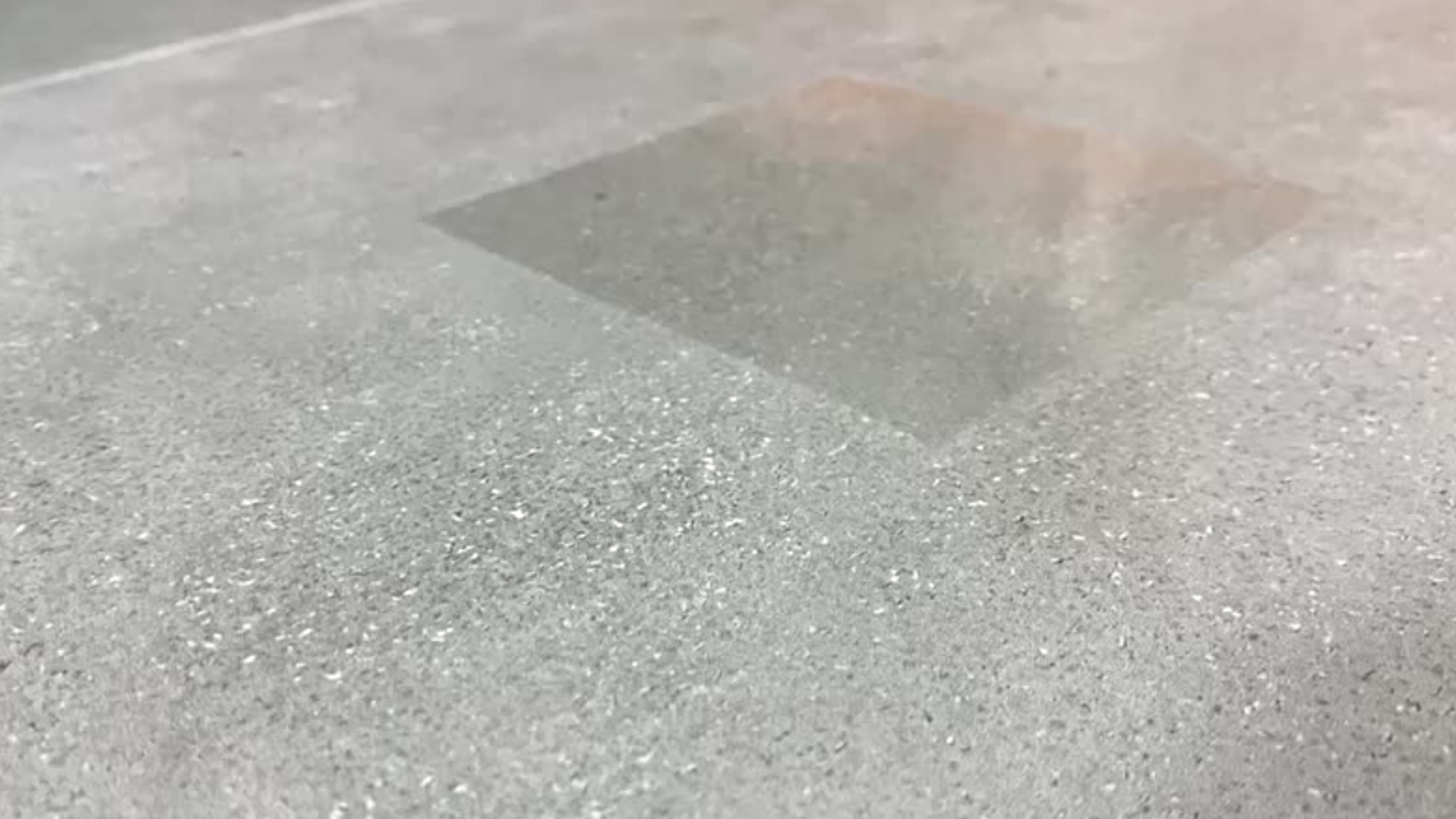 Better For Lifetime Value
Flooring That Pays Back
Fast, dry-laid installation method saves time, money and disruption
Eliminates messy, wet trades

Set out and lay straight away, no waiting needed
Zero mess, cleaning or remedial costs on uplift

Double liner for easy application and placement
Material efficiency – 75% weight saving vs adhesive for reduced logistics and disposal costs
Only 4% coverage needed – Equivalent price or cheaper per sqm than full-spread adhesive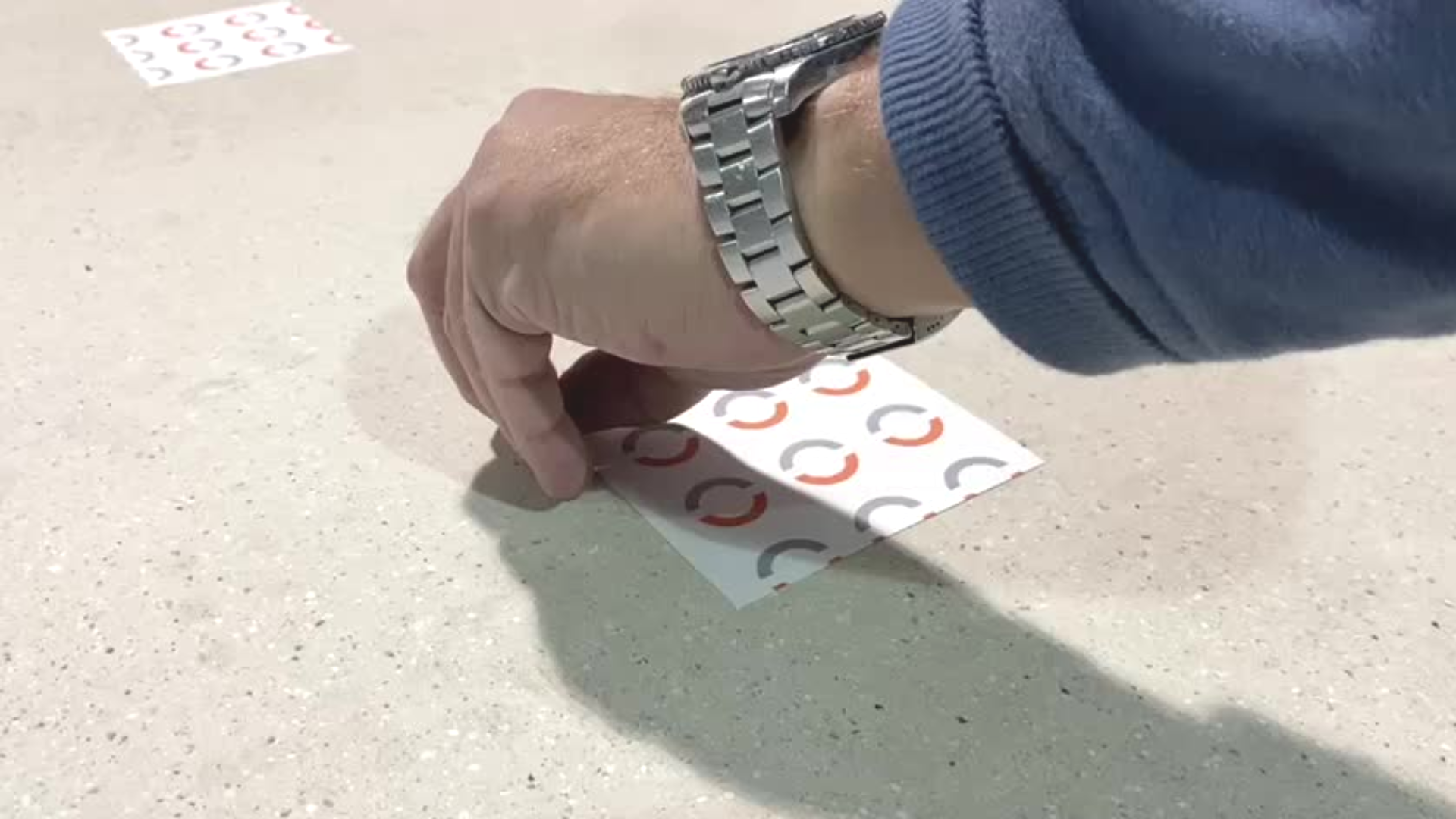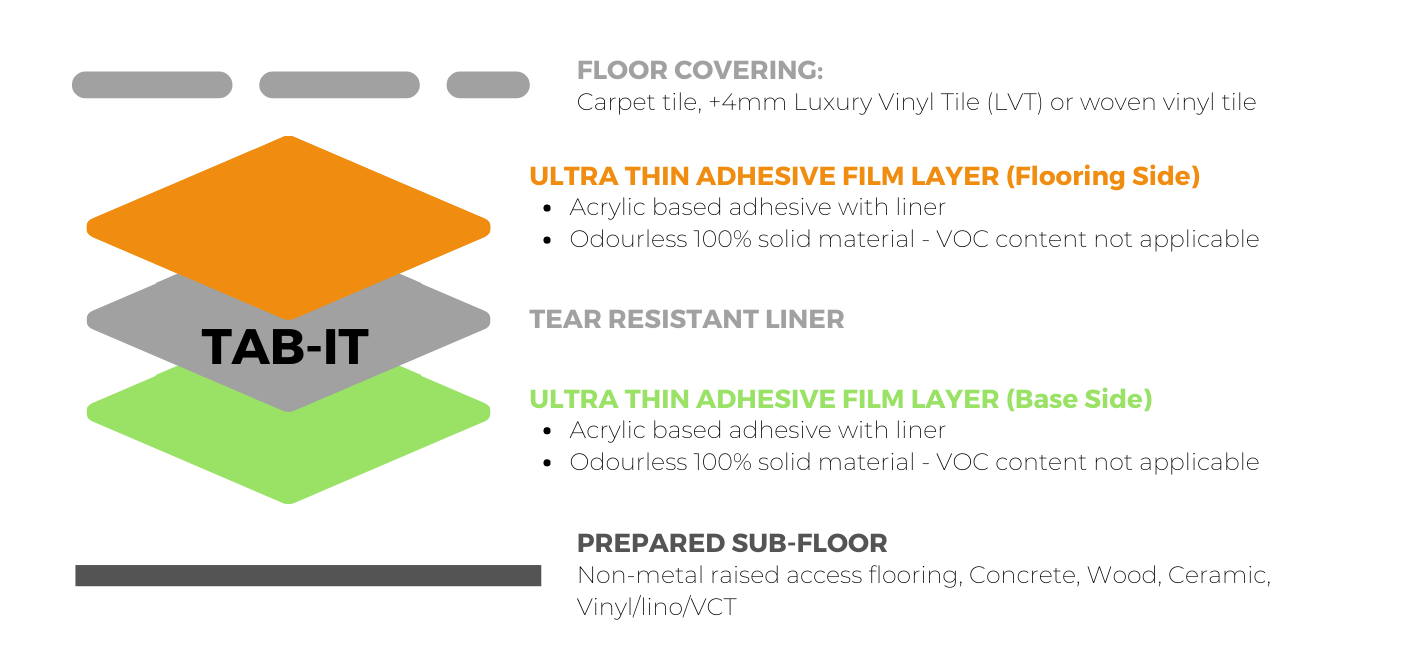 Compatible Sub-Floors
Most common prepared sub-floors, including:
non-metal raised access floors including calcium sulphate, aluminium and wood
concrete/polished concrete
wood
ceramic
vinyl/lino/VCT
Compatible Floor Covering Types
Carpet tile
+4mm Luxury Vinyl Tile
Woven vinyl tile
Dimensional Data
97 x 97mm square
circa 0.1mm thickness
100 tabs per roll, 8 rolls per case
Case dimensions – 305 x 305 x 305mm.  Weight – 4.8kg