Cost-Effective
Quickly repair or replace your flooring without closing your business.
Keeping operations open is a critical need – every hour counts when your floor space needs to be open and generating revenue. Not to mention minimising disruption for customers and staff.
IOBAC's fast installation and replacement process means that loss of revenue due to closure and/or repairs can be reduced by at least 3 times.
So if your 1,000m2 operation generates £5K revenue per day, a replacement flooring installation can be completed in 5 days with IOBAC magnetic flooring versus 15 days with traditional methods, giving a saving of £50K in potential lost revenue (10 days x £5K).
Whole Life Costs …. Slashed
Plus the simplified installation process means a whole host of associated programme costs are significantly reduced with IOBAC magnetic flooring.
Labour savings
Material savings on preparation stages
Reduced preliminaries/management/works at nights costs
Ongoing maintenance and repair savings
Reduced replacement costs
Consider a 1500m2 vinyl floor replacement completed over a series of nights to minimise disruption to operations.
Over the life of the floor, the IOBAC Magnetic Flooring system gives a staggering 35% saving (or £33,100) versus the traditional method.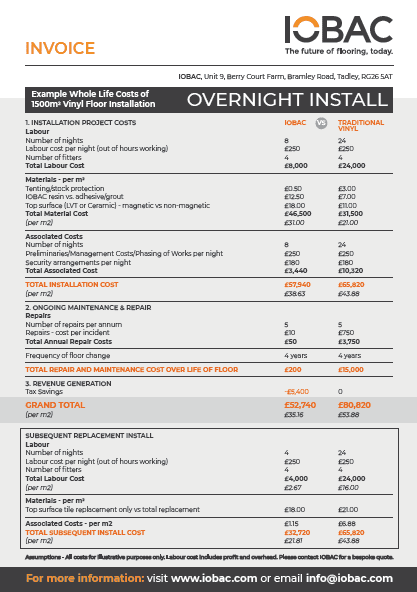 (based on costings used in a previous programme working with a major retailer and their supply chain)
And if our example project involved loss of revenue from store closures, then the overall whole life costs savings with IOBAC Magnetic Flooring jump to nearly 50%!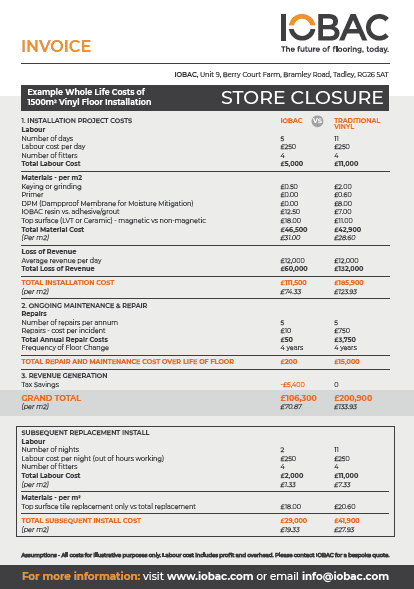 Because IOBAC enables whole or sections of floors to be changed quickly and easily, floor owners can generate revenue by renting or selling floor space to brand owners as a fully flexible, easy to change, advertising medium.  Advertising promotions can be run on a regular basis and can be implemented and installed by the store staff with no need for a professional contractor.
Plus enhance retail space by easily installing franchise, in-store concessions or pop-up promotional areas.  Or use directional retailing to attract footfall to higher margin areas using data from IOBAC Sensor flooring as valuable insight.
Tax Benefits
PLUS, as the magnetic top surface tiles are removable, and not considered to be a permanent part of the structure of the building, then a capital allowance of 24% can also be applied.