When specialist contractor ASHBURY TILES LIMITED needed a better solution for installing tile access panels in their prestigious Nine Elms regeneration project in London with property developer Telford Homes, our patented Dual-Grip technology came to the rescue!
They told us that trying to line up hinges and brackets to get a perfect finish using traditional access panel systems is fiddly, frustrating and can lose precious time on a job.
Plus the contractor often has to make return trips to site afterwards to open the panel for access.
"[traditional systems are] essentially unsightly, poor quality, costly and time consuming to install. Basically there are no decent access panel kits on the market"
Ashbury Tiles visited the IOBAC demonstration unit near Basingstoke in search of a better solution.  In response, IOBAC developed Ezy-Fit, a very simple porcelain/ceramic tile access solution enables a flexible, professional finish, and easy access installed IN HALF THE TIME!!
Hard to Shift, Easy to Lift
The Ezy-Fit system is made up of two components:
IOBAC MagTabs which are adhered to the back surface of

porcelain and ceramic tiles

IOBAC Compressive Crumb Rubber Packers – magnetically receptive packers which utilise our patented Dual-Grip technology combining adhesive tack for flexible tile positioning, and magnetism for superior hold
Yet when access is needed, the tile is simply lifted away using a suction cup.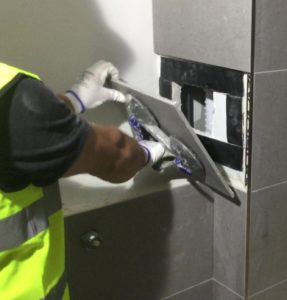 Click here for more information on Ezy-Fit Tile Access Panel Kits, or here to download the Nine Elms case study.