Our pre-recorded on-demand CPD explains the key benefits of specifying adhesive-free flooring, namely:
In the last of our three-part series taken from the CPD, we explain the operational efficiency benefits of adhesive-free flooring.
Operational Efficiency
From saving labour and material costs on installation, to making ongoing repair and maintenance work easier, there are several ways in which specifying adhesive-free flooring installation can improve the ROI of a building.
Fast, hassle-free installation
IOBAC adhesive-free flooring installation technology was designed to be as simple and hassle-free as possible – in fact, installation time can be reduced by up to 3 times.
Both our Express Cure resin and dry-laid Ezy-Install Underlay can be laid directly to the existing flooring, provided it is down and sound, so you save the huge time and expense of uplift and rectification of sub-floors.
As the process is so fast, there is minimal disruption to business operations. Works can be carried out overnight or in the case of 24/7 operations whilst employees are working, as there is reduced dust, noise and no odour from adhesives.
This Shell forecourt shop refit case study shows how installation time was reduced from 8 to 5 days per shop, minimising disruption and maximising store revenue.
And as time means money, there are considerable savings to be had on both material and labour costs.
In this example project, we consider a 1500m2 vinyl floor replacement completed over a series of nights to minimise disruption to operations.
Over the life of the floor, the IOBAC Magnetic Flooring system gives a staggering 35% saving (or £33,100) versus the traditional method.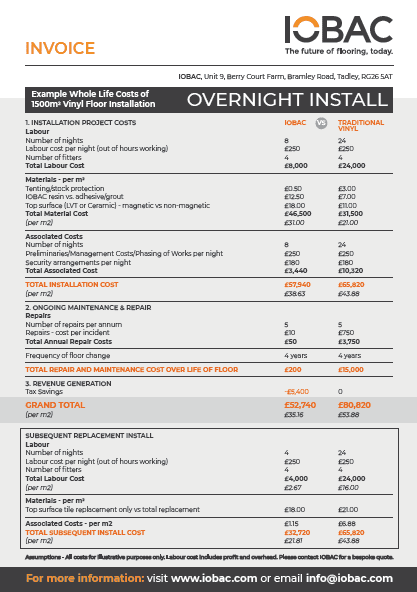 By specifying adhesive-free flooring, you can:
make life quicker and easier for installers
reduce down-time and disruption to business operations
cause less upheaval to customers and staff
and ultimately, save time and project costs on a flooring solution.
Keep your business on track, with super-speedy installations.
Because life's too short to waste time on messy, long-winded processes.
Quicker, easier repairs & maintenance
Flooring is a major investment. Like anything else, it needs to be well looked after to make sure you get the best possible return, and keep it looking its best for a long and productive life.
From general wear and tear, to damage, flood and spills, it's important floors can be easily repaired and kept clean and damage-free to avoid slips and trips.
With adhesive-free flooring, there are ongoing savings that can be realised throughout the whole life of the floor.
Replacement of any damaged tiles is simple, needs no specialist labour and significantly reduces the repair and maintenance bill.
Simply lift up the damaged tile and put a new one in its place in a matter of seconds. Perfect if a high wear area such as a corridor needs replacing whilst other areas are still serviceable.
A US supermarket had repeated instances of nail varnish spillages onto tiles. With IOBAC, replacement of the affected tiles is simple and costs about $6 compared to $4-500 per incident.
Raised Access Flooring
Widely used in modern office buildings and data centres, raised metal access floors create a hidden void for the huge passage of data, mechanical and/or electrical services required in today's working environments. Indeed, research suggests that a large corporation can have over 20,000 miles of cabling in a single facility.
Access to services such as data cables, electric wiring etc for repairs and maintenance is critical, especially when a typical organisation can have this much cabling in their estate.  In these types of buildings, metal raised access floors are popular as the cables are housed neatly underneath the sub-floor.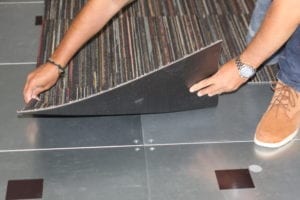 Traditional flooring installation methods involve gluing and screwing a plywood base to the raised metal access floor, feather prepping, before applying adhesive and floor covering.  The major disadvantage of this is that is then extremely difficult to access the services below, rendering the access floor redundant.
With an adhesive free alternative there is far less labour and cost to install.  For immediate access to services below raised metal access floor, you simply uplift the floor covering.
Read here for why a sustainability-conscious company chose MagTabs as an adhesive-free installation method for carpet tiles on metal raised access flooring in their prestigious headquarters.
Flooring that pays back
As IOBAC adhesive-free flooring installation enables floors to be changed quickly and easily, floor owners can generate revenue by renting or selling floor space to brand owners as a fully flexible, easy to change, advertising medium.  Advertising promotions can be run on a regular basis and can be implemented and installed by the store staff with no need for a professional contractor.
Retail spaces can be enhanced by easily installing franchise, in-store concessions or pop-up promotional areas.  Or use directional retailing to attract footfall to higher margin areas using data from IOBAC Sensor flooring as valuable insight.
Tax Benefits
PLUS, as the magnetic top surface tiles are removable and classed as non-fixed, and not considered to be a permanent part of the structure of the building, then a capital allowance of 24% can also be applied.
Giving savings for tenants, landlords and property developers alike.
Check out the rest of "The Specifier's Guide to Adhesive-free Flooring" CPD to
> discover other benefits
> learn about adhesive-free flooring options
> see case studies