To date, over one thousand contractors, interior design and architectural practices have signed up to Built Environment Declare, a public commitment to action against climate change.  Key pledges include upgrading rather than demolishing existing buildings wherever viable and industry collaboration to reduce construction waste.
With research by RICS estimating that buildings have 30-40 fit-outs during their lifecycle and Perkins and Will's "Net-Zero Now Interiors" reporting that 300 tonnes of fit-out material go to landfill every day, flooring technology experts IOBAC UK Ltd explore the crucial role that flooring installation can play in improving the circularity of commercial interior projects.
The Flooring Waste Issue
Ian Spreadborough, Co-founder and Director of IOBAC explains: "Naturally the floor covering takes centre stage in the specification process as it's a major part of the aesthetics, with the decision as to how it is fixed to the sub-floor often left to contractors.  They may decide on traditional adhesive-based methods such as tackifiers, spray and contact adhesives.
However, when that flooring is uplifted, it's likely to be contaminated by not only adhesive residue but also some of the subfloor to which it was adhered, meaning it's not suitable for recovery or reuse and can't be easily recycled.
Plus the sub-floor, often metal raised access flooring, is also contaminated, and has to be made good before the next installation, adding remedial costs for the landlord and tenants."
Floor coverings contaminated with adhesive can end up being sent to landfill after just one use.  Research by the Changing Markets Foundation concluded that an area the size of Birmingham, UK is thrown away every year, just in carpet alone.
And the issue is compounded by shortening lease times demanding more frequent design changes.
Ian continues: "All too often, floor coverings are seen as single-use items, tending to be replaced due to design changes, rather than when the flooring wears out.  Material life far exceeds design life in most projects."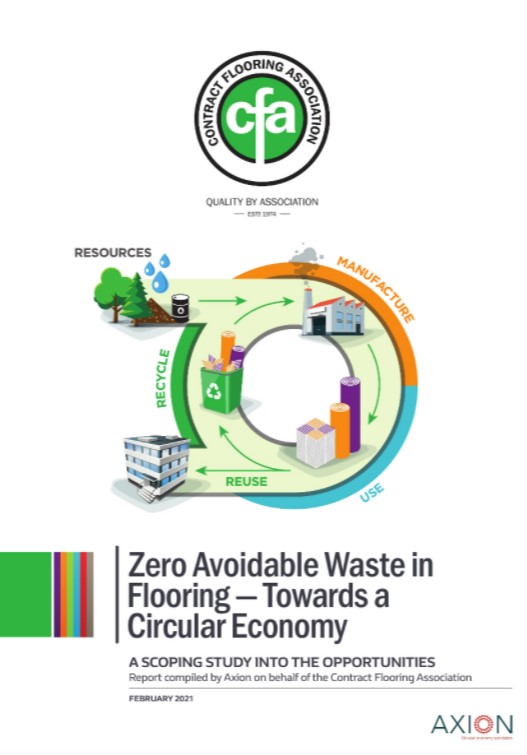 The Contract Flooring Association (CFA) recently published a comprehensive report "Zero Avoidable Waste in Flooring – Towards a Circular Economy" in which it describes carpet tiles as "engineered to perform well in the harshest commercial locations.  Often, their design life of 15 years is much more than their fashion-led actual life of 7-10 years. This means a second life is well within their asset lifetime."
Increased Specifications for Adhesive-free Installation
Much is being done by the flooring industry to combat this issue.  Organisations such as Carpet Recycling UK and Recofloor work hard to improve landfill diversion rates by promoting new recycling technologies and re-use programmes, and major flooring manufacturers including Milliken, Interface, Tarkett and Shaw Contract have put huge amounts of investment into developing 100% recyclable products, and on Cradle-to-Cradle certification and free reclamation schemes.
Ian continues: "In addition to these efforts, we want to highlight how specifying adhesive-free installation is a straightforward way to help design out waste and encourage material re-use.  We're seeing a real uplift in architects, designers and clients requesting it as a way of meeting their ESG targets.
This has been supported by associations such as the BIID recommending "a glue-less system that allows easy removal and recycling of materials" for carpet tiles in their recently launched Sustainable Specifying Guide, and SKA rating good practice advocating the re-use or recycling of floor coverings and raised access flooring wherever possible."
Adhesive-Free Installation in Practice
Led by RICS, SKA ratings are an environmental assessment method used to rate commercial fit-out projects against a set of sustainability good practice criteria.
Achieving a SKA silver rating on all installed products was a key driver for a recent fit-out for a major car manufacturer's international headquarters in London, with adhesive-free installation specified by both the building owner Landsec and design consultants Thirdway.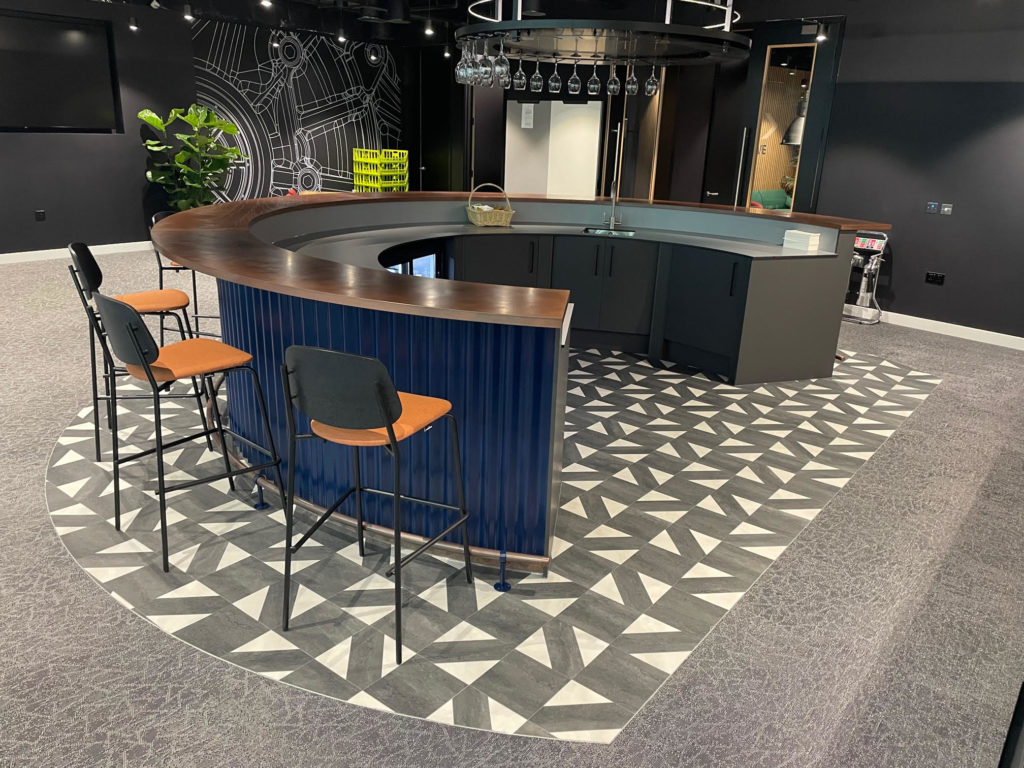 For ease and speed of installation, the contractor needed an adhesive-free installation method for raised metal access flooring that was compatible with all flooring specified: Luxury Vinyl Tiles from Tarkett, carpet tiles from Desso and woven vinyl tiles from Bolon.
With previous installations of leading flooring brands such as Milliken, Shaw Contract and Forbo,  IOBAC MagTabs™ were the ideal solution.  Magnetic on one side and self-adhesive on the other, these smart little tabs ensure unique 2-dimensional hold to a wide variety of floor coverings, whilst ensuring no contamination of the subfloor or flooring product used.
Not only are tiles locked together horizontally as per conventional floating floor solutions, but due to magnetic attraction, MagTabs also enable a strong grip in the vertical direction, ensuring tiles are secured well in place until the time comes to uplift them.
Ian comments: "This project used our new MT4+ MagTabs, which are thinner, lighter, yet stronger than ever before.  The tabs incorporate our Dual Grip technology which combines dry-tack adhesion with magnetism for phenomenal grab, even in high footfall areas.
We always say our solutions make flooring hard to shift, yet easy to lift – with MagTabs, the flooring can be cleanly uplifted, with no contamination to the access floor, for speedy repairs, access to services beneath raised flooring or when the spaces need re-configuring.
This gives flooring a new agility, able to adapt quickly to today's flexible space requirements, whether that's rental properties, flexible work environments or pop-up retail spaces.
Designers can combine different flooring types, be creative with intricate designs, switch designs quickly and easily repurpose and demarcate spaces, all whilst knowing disassembly will be easy and sustainable."
The installation method has financial benefits too, with labour and material costs significantly reduced during both installation and maintenance, no remedial costs, and no need to purchase new flooring as materials can be reused multiple times.
[Read the full case study HERE}
Making floor circular
It is widely acknowledged that a key route to avoiding embodied carbon emissions is to refurbish and extend the lives of existing buildings, and the materials within them.
Ian concludes: "In all the hard work around waste reduction and making flooring a circular material, we urge the industry not to forget about the method of installation.
Adhesive-free installation represents a different way to approach flooring – it helps transform it from a single-use material to a flexible design element that can be re-used and re-purposed multiple times before eventually being recycled.
It represents a sustainable choice, with design flexibility and operational cost benefits added in – it is a win-win for all concerned."
IOBAC have created an "Adhesive-Free Flooring Specification Centre", a one-stop shop of online resources including whitepapers, a downloadable "Specifier's Guide to Adhesive-free Flooring" CPD, case studies and technical data to make specification easy.  It can be accessed on their website at www.iobac.com/adhesive-free-flooring.
***************
Article featured in:
Contract Flooring Journal – see article here
Refurb Projects – see article here