Here's a recent project spotlight circulated by one of our US partners – intelli-force magnetix™ 
intelli-force magnetix™ powered by IOBAC, provides a safe, simple way to permanently isolate asbestos flooring without ever having to contend with the complete shutdown of your facility.
intelli-force magnetix™ offers you a clean, dustless, odourless installation eliminating environmental and safety issues for the trades, faculty and students. This, all while saving 50% of the cost of traditional methods for installing new flooring and abatement.
No longer do you have to abate asbestos flooring the messy, costly, time-consuming way… NOW there's a better way.
Simply apply intelli-force magnetix™ powered by IOBAC's patented resin over sound asbestos floor for a permanent isolation of asbestos.
Successful Flooring Installation Over Asbestos at Park Ridge Presbyterian Church
Schools and churches often have old asbestos flooring that becomes problematic and costly to abate. Park Ridge Presbyterian Church, Illinois chose the quick, cost saving isolation method to replace their flooring with new carpet tiles.
Using intelli-force magnetix™ Kwikrez 300+ polyaspartic magnetically receptive coating with IOBAC magnetic resin technology was the solution. Standard Interface carpet tiles were installed using clever IOBAC MagTabs for a high quality finish.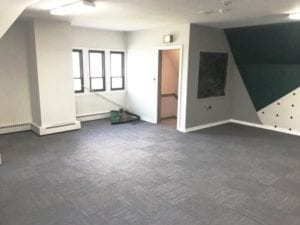 The end result was a successful installation, completed in hours without disturbing existing asbestos flooring or paying the cost for expensive abatement.
Please contact intelli-force magnetix for further details.