A recent LinkedIn article by IOBAC's co-founder and director, Ian Spreadborough, on the reduction of landfill in the flooring industry.
****************************************************************
As climate change issues (quite rightly) take a global centre stage, I thought it would be a good opportunity to share how IOBAC is looking to play its part on sustainability within the flooring industry.
A Founding Principle
Not many people realise that the IOBAC company name was actually derived from the desire to create a flooring process that was as easy and as sustainable as possible. We believed there had to be a better way to install and manage flooring throughout its lifecycle.
Pronounced as "I-Owe-Back" to the environment, one of our objectives was to develop a flooring installation technology that eliminated flooring waste … more on that later.
And as the company's technology portfolio has expanded, Sustainability has always been one of the 4 core principles on which our technologies are developed (alongside Speed of Installation, Flexibility, and Operational Effectiveness).
So for instance, we have been diligent in ensuring that our technologies include recycled materials and are recyclable wherever possible, with examples including:
o  Ezy-Install Underlay developed with InstaFloor which is made from recycled rubber tyres
o  MagnaTak or High Grab resin coating developed in close collaboration with Castagra Products Inc which is manufactured from plant-based renewable castor oil
o  Our metal additives are made from recycled scrap iron
o  MagTabs which can be re-used or recycled after use
An Industry Problem : Waste
However, as an industry, flooring continues to have a massive problem – waste – as traditional floor coverings are notoriously difficult materials to recycle. For example, over half of all carpet waste in the UK goes into landfill, with a recent report claiming that an area the size of Birmingham is thrown away every year.
To combat this, organisations such as Carpet Recycling UK and Recofloor are working hard to divert flooring from landfill by promoting new recycling technologies and re-use programmes, but what else can be done to help?
The Missing Part of the Jigsaw
Major flooring manufacturers including Mohawk, Milliken, Interface, Tarkett and Shaw Contract have long been playing their part too, putting huge amounts of focus and investment into developing products with 100% recyclable fibres and non-PVC materials, on Cradle to Cradle certification and offering free reclamation schemes.
However, I fear, the industry is missing a massive piece of the jigsaw .…
The minute one of those 100% recyclable floor coverings is installed using an adhesive based method, whether that's tackifiers, or peel and stick, then it's chances of being able to be recycled after use are slim, at best.
That's because on uplift, the backside of the product is likely to be contaminated by not only adhesive residue but also the subfloor to which it was adhered, meaning it's not suitable for recovery and reuse and can't be recycled.
Unfortunately, all the hard work and resource that the manufacturer has spent in developing a recyclable product is wasted.
When adhesives are used to install flooring products, the variables are substantial. Site climatic conditions, in addition to cure times, and coat weight applied all have an influence on how the flooring product is fixed and level of contamination on uplift.
But as a colleague from a leading floor covering manufacturer pointed out to me recently "70% of all flooring product is still being stuck down. We need an alternative solution."
It's a well recognised issue, and there are a number of adhesive-free options that have been developed but:
1.      None of them quite hit the mark e.g. loose-lay often still needs a tackifier, traction-back is prone to contamination from the subfloor – meaning that on uplift, the product cannot be easily re-used and an adhesive is needed to re-install. Even tongue and groove or "click" type installation processes on timber products results in damage to the mechanism on uplift, and adhesive contamination, again meaning the timber cannot be reclaimed or reused.
2.      These options are for one floor covering type alone e.g. "Click" can be used for vinyl but not carpet, the options for ceramic and wood can't be applied to other flooring types. "So what?" you might say, but having a different method per flooring type creates too much complexity and introduces too many different variables to the installation process, resulting in wasted time and potential error.
Taking A Holistic Approach
This is where I believe the solution needs to be a holistic one – considering the floor covering and its installation method as a complete system is key.
The beauty of the IOBAC installation process is that floor tiles are loose-laid and secured in place using Dual-Grip technology which combines m
agnetism with dry adhesive tack, eliminating the need for any messy tackifiers or wet adhesives, and enabling a clean, odour free process.
For access, repair, maintenance or a more permanent change of design, the tile can be removed undamaged in a matter of seconds.
Simply pick up the existing tile and replace – there's no residue or contamination of either the tile or the base. So the base is ready for installation of new tiles straight away, no preparation required, and the flooring that's been uplifted is perfectly safe and fine to be reused elsewhere or to be recycled.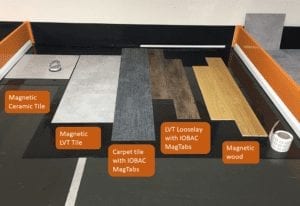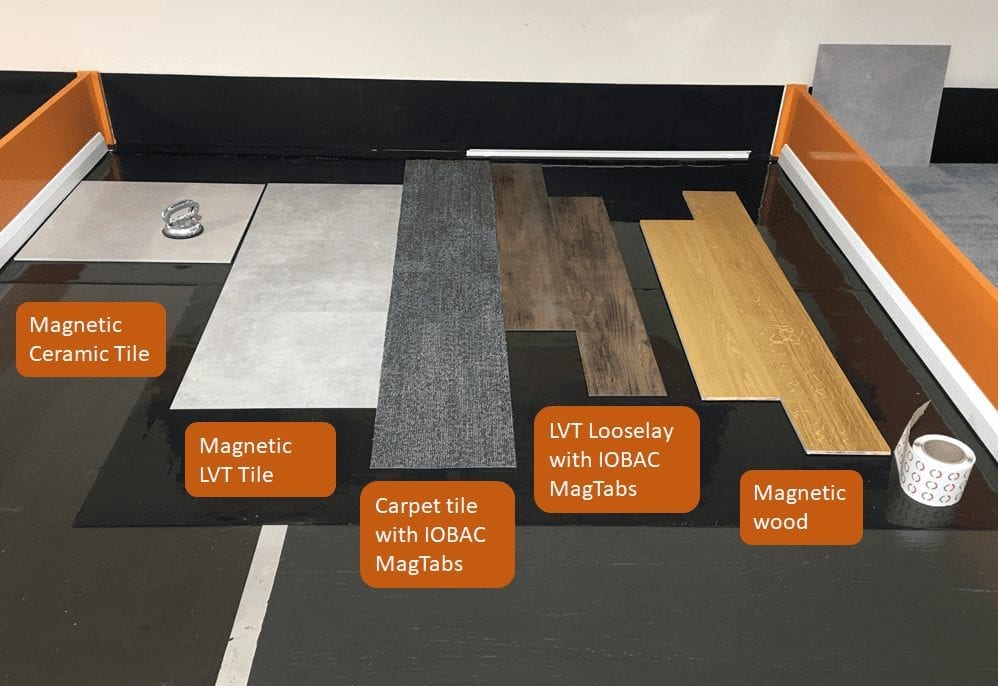 Using our Ezy-Install Underlay System as the magnetically receptive base, takes the guesswork out of flooring installation.
It offers Universal Compatibility meaning that a diverse range of floor coverings – LVT, carpet, ceramic, timber, rubber – can all be installed, either direct to the underlay if magnetically backed, or using our MagTabs if not.
By using a universal fixing system, you remove all of the variables from the installation process and the installer, manufacturer and client has peace of mind that the project is sound.
Positive Steps
It's fantastic that so much is being done around sustainability in our industry already, but I believe in order to take even more positive steps forward, collaboration is required.
And in particular, when it comes to waste reduction, we need to consider flooring as a complete system, because working on its component parts and processes in isolation is fundamentally "floor-ed".
For more on IOBAC and our approach to sustainability, please visit www.iobac.com/sustainability.