Another successful installation using new IOBAC MagTabs.
100 Bishopsgate– a 40-storey office tower providing highly efficient and flexible floor space in the heart of the city of London.
The installation was successfully completed by Loughton Contracts Plc who found the MagTabs efficient and easy to use.
Using clever MagTabs, an area of the 4th floor, a metal raised access floor, could be quickly and cleanly fitted-out, meaning no residue or mess when the area needs to be re-purposed.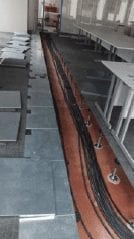 And when contractors needed access to the sub-floor for maintenance just hours after installation, no problem – the surface tiles were simply removed, services were accessed and then the surface tiles replaced again.