Garden Office and Treatment Room
With a growing physiotherapy and CBT practice, Mark decided to invest in a garden building as an additional space in which to treat his clients.
He needed a building that was easily accessed by patients, separate to the house and that incorporated both office and treatment areas.   
After careful researching the options available, he is now the proud owner of a multi-purpose garden studio that fulfils these initial criteria and more.   
He chose flooring installed using IOBAC technology as an all-important finishing touch – we caught up with him to find out more.
"I was looking for a flooring solution that looked good, yet was simple enough to install myself."
Mark, Physiotherapist and CBT Specialist
Why did you decide to invest in a garden room?
It's really important to me that my clients are able to visit an environment that's quiet, comfortable and professional. 

With a busy household, I needed to create a space that was separate from our home, yet close enough for me to still feel connected to family life.

Outside of work, we also wanted to have a space in the garden that we could use for entertaining.  So it was critical that the space was flexible enough to accommodate this.
Why did you choose IOBAC flooring?
I was looking for a flooring solution that looked good, yet was simple enough to install myself. 

 

As the studio was going to have a few different uses, I wanted to use different floor covering types for the two areas in the studio – carpet for the office area, and a harder-wearing Luxury Vinyl Tile for the gym and treatment area.

 

I liked that I could install both flooring types on top of the Ezy-Install Underlay, without having to switch methods.  The whole system looked really clean and simple. 
What have been its benefits?
One of the biggest benefits I have found is the flexibility that the flooring allows.  About six months after first installing the flooring, I had a re-think and decided that I actually wanted to increase the office area and downsize the gym.
It would have been a major headache to change the two areas around if I'd have installed traditional flooring, both in terms of cost and time.  But with IOBAC, it was no problem.  I simply lifted up the LVT in the gym and replaced it with carpet to enlarge the office area.  The underlay stays as a permanent base and you just change the flooring on top as needed. 
I also had an incident resulting in a small burn mark on the carpet (long story!) which was right in the middle of the office area. 
Again it would have been a nightmare to replace with standard carpet.  With this carpet, all I had to do was lift and replace the damaged tile.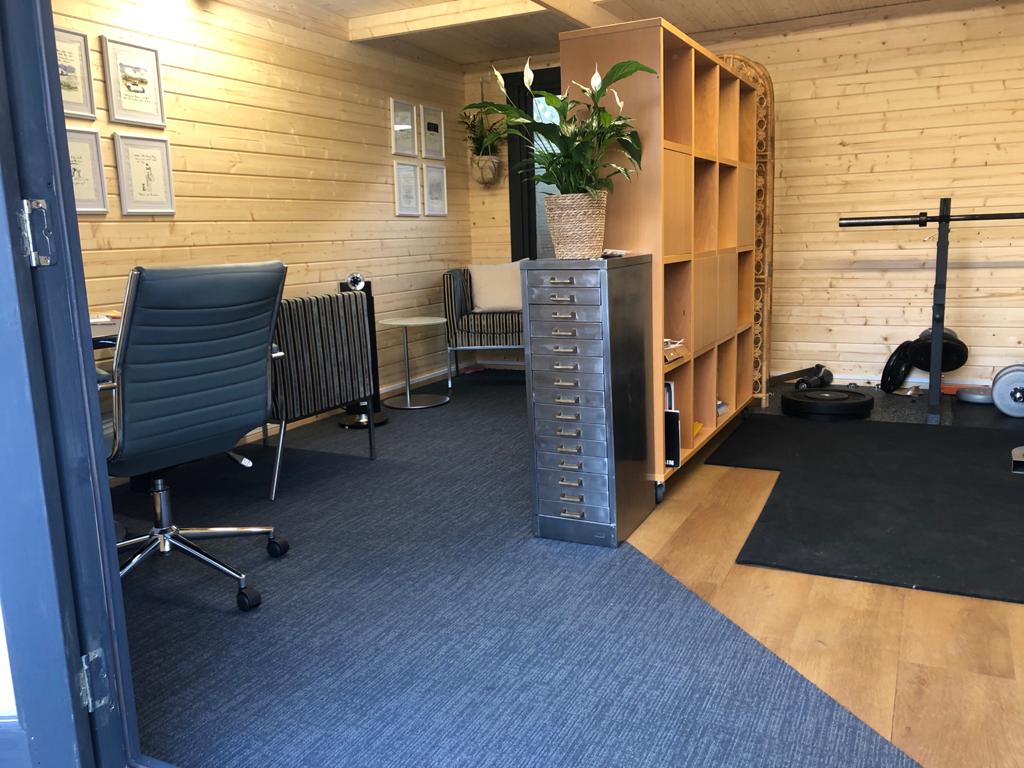 12 months later ….
As my business grew, I felt I needed to re-design how the space worked for my clients and I.
With Ezy-Install, it was easy to change the floor coverings to clearly differentiate the various zones in the office.  I was able to mix and match flooring types to get the best choice for each area.
So now I have carpet in the office and consultation area, magnetic rubber from InstaFloor in the gym and magnetic Luxury Vinyl Tile from Karndean in the entrance and cloakroom.  The carpet tiles weren't magnetic but we simply used clever IOBAC MagTabs to fix them to the Ezy-Install Underlay.
A brilliant example of how Ezy-Install Underlay can be used to create fantastically flexible outdoor spaces!
How did you find working with IOBAC?
The whole process was nice and easy.  I was able to go online to view and order the carpet and LVT options, along with the Ezy-Install Underlay.  Delivery was prompt.
The install instructions that were provided were clear and easy to follow. I would describe myself as a "competent DIYer", by no means an expert, and I was able to fit the flooring in just one afternoon.