We are pleased to launch our beautiful magnetic wood range – now you can combine the beauty of wooden flooring with todays cleanest, simplest and most sustainable method of installation.
View the stunning product range in our new brochure here.
Why Use Magnetic Wood Flooring?
Wood has been a trusted flooring choice for centuries, with the first tongue-and-groove products invented in the late 1800s.  Our magnetic-backed wood products combine reliable tongue-and-groove locking with today's new installation technology for superior sustainability and convenience.
The wood floor is securely held in place, yet can be cleanly and easily uplifted whenever needed.
STRONG MEETS FLEXIBLE. TRADITIONAL MEETS TECHNOLOGY.
What are the benefits of Magnetic Wood Flooring?
SUSTAINABLE
• Adhesive-free installation means that the wooden floor can be cleanly removed and reused elsewhere, or recycled/reclaimed.
FAST
• Simple, hassle-free installation – far fewer installation steps and materials as shown in this example for installation onto a raised metal access floor.
Meaning reduced labour time and costs, and minimal disruption to business or home.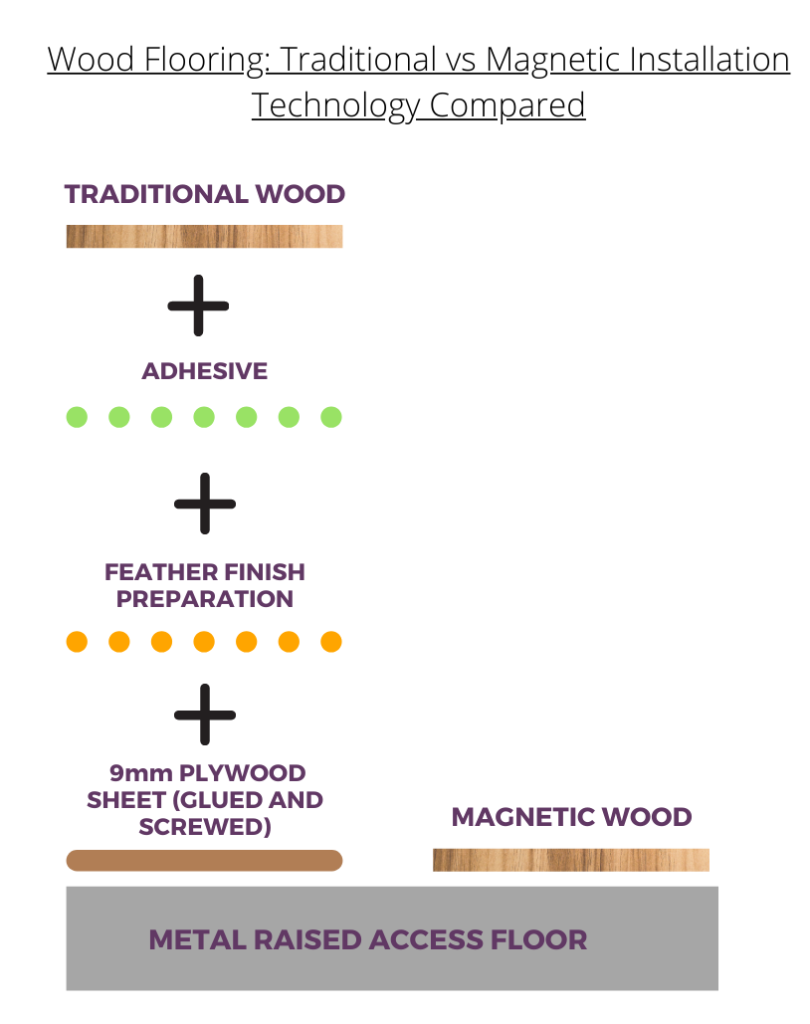 FLEXIBLE
• Easy access, repair and replacement
• Change designs and re-purpose spaces quickly and easily
• Available across the whole range of wood products for lots of design choice
COST EFFECTIVE
• Reduced time/ installation costs as shown above
• Capital allowances for building owners are possible, since the flooring is classed as a portable asset
Where can I install magnetic wood flooring?
Simply install magnetic-backed wood onto the following magnetically-receptive bases:
METAL RAISED ACCESS FLOORING
Raised access flooring is typically found in workplaces, data centres and retail as it enables quick and easy access services in the void beneath the floor.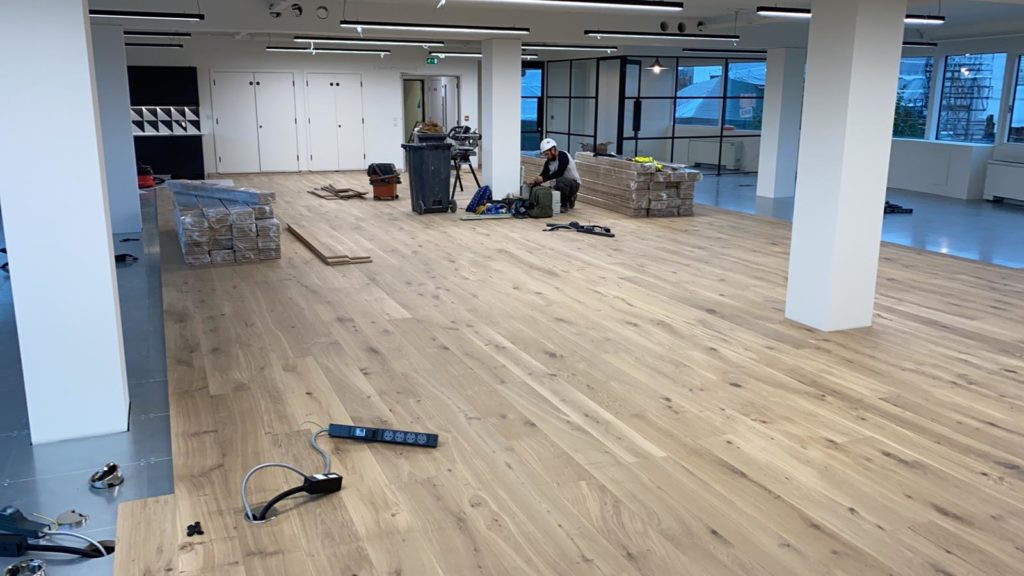 The magnetic wood is installed directly onto the raised metal floor and is held securely in place.  The installation process is quick and intuitive, with it being possible to lay approximately 25sqm per hour.
As the wood planks are cleanly and easily uplifted, access to the floor void at data-points and agreed areas is easy
When the time comes to remove the floor, again as there are no wet adhesives involved in the process, both the wood planks and access floor are left clean and uncontaminated for next use.  No time-consuming rectification or removal of adhesive residue required.
IOBAC EZY-INSTALL UNDERLAY
Suitable for both commercial and residential use, IOBAC Ezy-Install is a simple, magnetically-receptive underlay.
Simply roll down onto the sub-floor and install the magnetic wooden flooring on top for a simple. clean, adhesive-free wood floor.  Independent reviews from DIY Week verify just how easy it is to install:
"I've put down various types of flooring over the years, but none have been as quick, easy and clean to work with as IOBAC's Ezy-Install." – Editor, DIY Week
The underlay has excellent acoustic properties for impact sound reduction, whilst also providing moisture protection.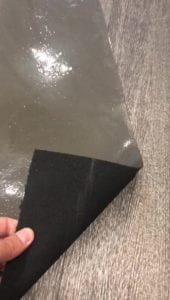 How does magnetic wood flooring work?
The composition of magnetic tongue-and-groove wood flooring creates a powerful 2 dimensional hold:
The magnetic field remains in close proximity to the wood floor, and electronic devices and equipment are unaffected.